Goods at Buurtmakers Festival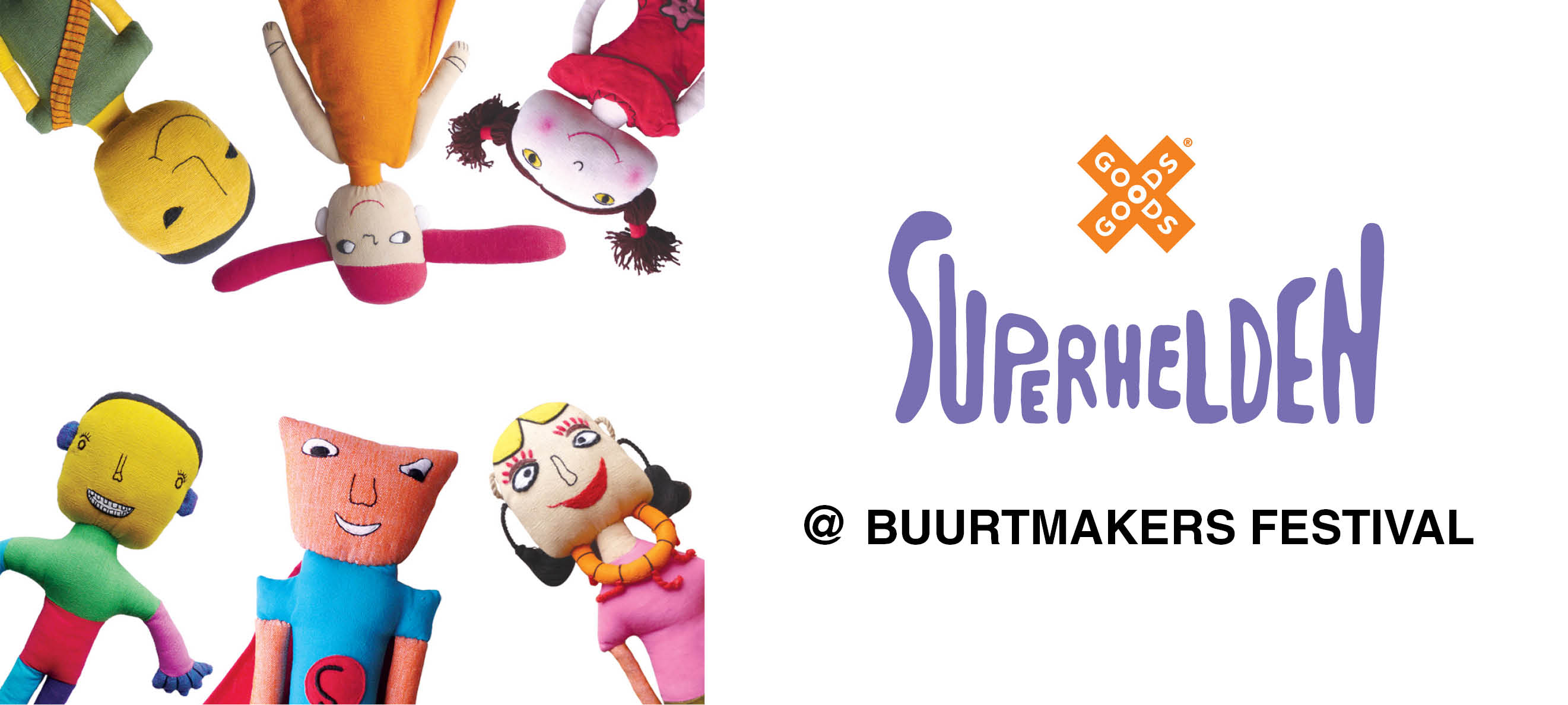 On the 27th and 28th of September Buurtmakers Festival took place in the Wildemanbuurt, a neighborhood in Amsterdam Nieuw-West. Local residents, artists, musicians and designers gave workshops and demonstrated their skills. Goods was present as a sponsor and participant of the festival to showcase the Superheroes from Kurunegala.During Buurtmakers Festival we asked children from the Wildemanbuurt to create their own superheroes, so they could transform their ideas into a real doll.

The Superheroes of Kurunegala
The Superheroes of Kurunegala are a creation of the imagination of children from Sri Lanka. Children between six and eight years old drew their favorite characters and superheroes. From 120 drawings, designer Alexa Lixfeld chose six very different drawings to be transformed into dolls, made from local fabrics. Every doll has it's own special power. During Buurtmakers Festival we asked children from the Wildemanbuurt to create their own superheroes. The superheroes ranged from Batman and princesses to their favorite grandmothers. Together with Goods they transformed their idea into a real doll.

Programme
For the fourth time Makers+Co organized a festival where local designers and creators from the neighborhood came together to showcase their talents and crafts. Buurtmakers Festival focuses on new media, recycling, crafts and sustainable use of material. Different co-design projects such as Neighborhood Ecology Wildeman, The Mobile Kitchen and Saving Money with Smart Energy where presented. Besides these projects, there where workshops such as 3-D printing, creative lighting, a photography workshop from Alexander, jewellery making, braiding ropes with robots and Buurtwerkplaats Noorderhof created something on the spot. There where tasty treats, fresh baked bread, Ethiopian coffee and what is a festival without music? Live performances by Yuchi Cordoba, Papa Sakho, Dawn Birds and Flecha Moon.

More information? Check out the Facebook of Buurtmakers Festival or take a look at the pictures.

Garage Notweg celebrated Broedplaatsendag with activities from Makers + co, Bound by Craft, DineDine Design, Creapalet, The Beach and Goods.